With the Sabro.net Affiliate system, you can start earning US$ 25 (or Q.200 Guatemalan Quezaltes) for each friend, acquaintance or family member, that you refer to us and that acquires a website in Sabro.net (or contract a website redesign service, in case he or she already has a web site but is not completely satisfied with it, which is most likely)

Participating in our affiliate program has no cost or special requirement, you can apply regardless of your age, gender, nationality and regardless of your location or country (as long as Paypal is accepted in your country or as long as you have a Bank Account in Banco Industrial of Guatemala), so you have nothing to lose and surely much to gain. Get started now, you can start using our Affiliate Program today, requesting your own AFFILIATE LINK below for FREE:




HOW OUR AFFILIATE SYSTEM WORKS
In these current times, the people who may need the design or redesign of a web site, can be any one you already know, like your doctor, your lawyer, a psychologist, a nutritionist, a coach, a teacher who wants to teach classes online or by zoom, a housewife who wants to sell flower arrangements or crafts online, event organizers, clowns, real estate agents, consultants, Ebook sellers, podcasters, small businesses and of course medium and large buisnesses and organizations such as furniture stores, shops, bookstores, schools, hospitals, even churches and non-profit organizations or foundations.

If you know someone or a business owner who has this type of activity, then you could Apply to Register for Free into our Affliate Program and later you could Suggest to anyone, that they visit your AFFILIATE LINK to Download a Business quote for a website, and earn your commission, in case your referral buys a website with us. (If you want to see examples of high-quality websites that we have developed for other people and companies, and then get an idea of who you could offer our services to, you can visit this link: www.sabro.net/webs)

If you also want to share this opportunity with a friend or a family member, so that they too have an extra income, generated from their cell phones or computers, you can tell them to register for free on this website.

You could even earn more than US$ 200 per week because for every referral you send us and purchase a website design from us, You will immediately receive the payment of US$ 25 that we will pay you via PayPal or with a bank deposit to your bank account at Banco Industrial de Guatemala.

Our Affiliate Program is very simple, safe and super reliable. You do not need to have sales experience and you do not even have to make an effort to sell our services, so it is not a work relationship, you do not have to make sales, you do not have bosses, or schedules, you just have to suggest to your friends and acquaintances that they download an estimate to obtain a website for your business, through the AFFILIATE LINK that we will provide you.

You could send your AFFILIATE LINK to your family, friends and acquaintances, in various ways, such as through a WhatsApp message, by Email, through Facebook, Instagram, TikTok, Twitter or by posting your AFFILIATE LINK in your Facebook Groups, your Youtube Channel, Forums, Blogs, a QR Code on your vehicle, or a magnetic sheet temporarily attached to the doors of your car, or with a printed mesh on the rear window of your car, or with an advertisement painted on the wall of your house.

There are other simpler but highly effective options such as placing your AFFILIATE LINK on the cover image of your Facebook page, your WhatsApp status or if you have a website with high traffic, you could also place a small Banner that We will provide you with its respective HTML code, so that you can monetize your blog or your website, displaying a banner that we will send you by email with your AFFILIATE LINK.

An example of how you could use your AFFILIATE LINK, from your own WhatsApp account with all the contacts on your phone, is through a casual message like the following example: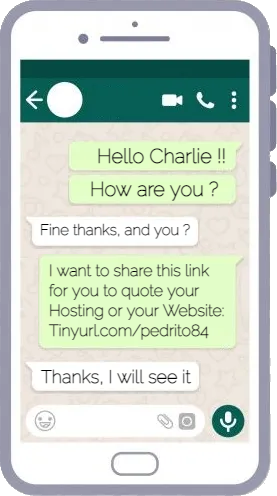 As a suggestion of success, a minimum of 10 messages
should be sent every day to different people (try it for 30 days)
Every time a person clicks on your AFFILIATE LINK, this person will see a web page where he can enter his name, email and telephone number to request that our system send him a quote by email, which will be sent to your referred person by email within the next 24 hours, at the same time, the system will send you an Email notifying you the name of the Referred person to whom a quote was sent. In case you know that person and if you have his contact information, you can also contact him and encourage him to hire our services.

After the quote has been sent to your referral, our system will reserve for you a possible commission of US$ 25, which will be paid ONLY if the referral completes the purchase of a Website. This reservation will be valid for you for a period of 3 months, in other words, your possible commission will be active for the next 3 months, if during those 3 months your referral does not complete his purchase, then the exclusivity of this referred person would be lost and Any other affiliate could refer that person to the system, for that reason it is very important that you encourage your referrals to complete the purchase, as soon as our system notifies you of the name of each referral to whom a quote has already been sent.

(IMPORTANT: Payments are only issued after your referral has paid for the Web Design service within 3 months of receiving our quote, if your referral does not purchase our service during that 3-month period reserved for you, then no payment would be issued for that unsuccessful reference).

Regarding the sale, We will take care of the sale process, so that your referral can acquire his website at sabro.net and if in case your referral buys our Web Design service during the following 3 months, that same day we will notify you By Email that your referral has already acquired our services and that same day you will receive your payment of US $ 25 through paypal or through a deposit in your Bank Account at Banco Industrial de Guatemala (according to your preferences).


IMPORTANT NOTES:
1. The generation of AFFILIATE LINKS is subject to review, so we reserve the right to enable Links, as well as the disabling of AFFILIATE LINKS due to lack of activity, invalid data, false profiles, spam, improper use or not allowed activities.

2. Payments are only issued after your referral has paid for the Web Design service within three months of receiving our quote, if your referral does not purchase our service during that three-month period reserved for you, no payment for that reference will be done, for the same reason if you know the people referred, as soon as our system notifies you of the name of each person referred by you, it is important to motivate and encourage them to hire the service already quoted by our system (for privacy reasons, only The name of the referred person will be sent to your Email address, so you can be aware of the performance of your AFFILIATE LINK, but for privacy reasons no telephones or email addresses are sent. The commission payment is paid only once for each referred Customer who completes their purchase and who is a new customer, which is recorded according to the customer's Email, these payments are not recurring. all commissions are paid only with new clients, not with existing clients)

3. The quotes must be requested on our website, directly by the referred interested in obtaining a quote, whose IP address is recorded for system security; Affiliates are not allowed to fill out the customer quote request forms, which is considered as improper use of the Affiliate System and would lead to the cancellation of the Affiliate Link.

4. Our Affiliate system stores session information in the user's browser for up to 72 hours, so with this programming, your referral can request a quote up to 72 hours after visiting our site, so it does not matter if your referral navigates in other pages of our website or even if he leaves our website or turn off his PC, tablet or cell phone, because as soon as your referral requests a Hosting quote or a Web Design quote, the system will always detect your Affiliate code up to for 72 hours, to assign that commission to your AFFILIATE LINK, even if your affiliate code is no longer visible in the browser's address bar.

5. It is important to note that there are other people already participating in our Affiliate Program, for the same reason it could be the case that your Affiliate Link sends us a client that was already been quoted before, through another Affiliate Link, In this case, this person referred by you would not apply within your Affiliate Link, therefore you would not receive the confirmation of this referral, unless the 3 months of reservation of the previous Affiliate Link have already expired and the client has not yet bought his website at sabro.net

6. If you have any questions, you can contact us by email at: info@sabro.net